After several long anticipated months, Singleton Heights Pre-School Inc have finally completed their renovations, including a brand new classroom.
Member for Upper Hunter Michael Johnsen and Pre-School director Neisha Dean cut the ribbon to officially open the classroom earlier this afternoon in front of the highly anticipated crowd of students, staff and families.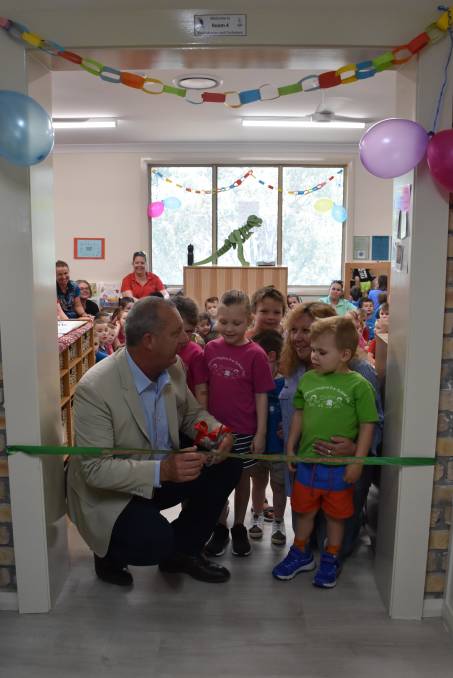 The upgrades were possible thanks to the Pre-Schools successful application earlier last year for a grant from the Start Strong Capital Grants Funding Program.
The $330,000 grant included a new entry area, a new staff room, new flooring and an additional classroom with an associated bathroom and storeroom.
Pre-School Director Neisha Dean said the new classroom is already a huge success and the renovations have improved the Pre-school as a whole.
"We are so grateful to have the new classroom as well as the new floors, additional bathroom, storage room, the new entry way and the staff room," Ms Dean said .
"The last thing on our list of improvements is our new awning and outdoor play area that joins the new classroom and existing outdoor play area to each other which has also come from a grant from the Start Strong Capital Grants Funding program,"The pre-school currently employs 17 full time staff and now, with the new classroom educates 80 children.
"We were at 60 children each day, now we are 80 which is very exciting. We are already full for next year and still have people on our waiting list."
The Pre-School also received their National Quality Standard results which were beyond average.
"Our ratings from National Quality Standards also came through late September and we received exceeding results again in all of our areas which we were all stoked about,"
The non-for-profit community based centre located on Dorsman Drive has been serving the community since 1985 and hopes to keep its positive reputation.
This article was originally published by Julia Moore in The Singleton Argus.